Teachers and students debriefings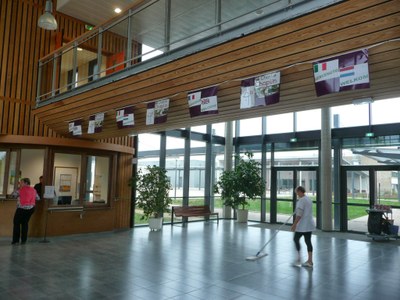 Teacher's evaluation – An Excellent visit. Thank you very much to Philippe and his French colleagues for all the work done on our behalf. The meeting was very well organised with a variety of activities to show different aspects of life in the city of Lyon. Colleagues who led sessions were helpful and well informed – they had given thought to the suitability of the activities for the young students that had different levels of English language and ages. Susan particularly enjoyed the session on classical Lyon. The relationships between the hosts and students were excellent as they all gained from the experience of staying with a French family. There were great new ideas for Comenius that made this meeting different from others, e.g. the flashmob and the evernote audio guide activity.
The following suggestions are not meant to be over critical, only ideas how the meeting could have been even better than it was. Students could have been given more tasks to complete either before, during or after the trips, e.g. a quiz to complete whilst going round Decines or there could have been competitions in mixed teams. More information could have been given to pupils before the activities (e.g. about the Treboules, the Brasillica,... in preparation for the audio guide activity). Smaller mixed nationality groups for some activities would have been valuable.)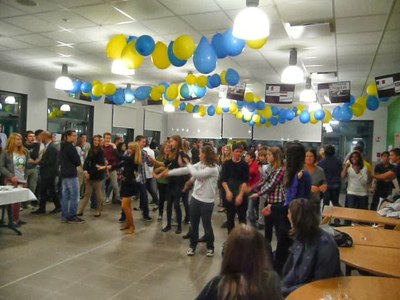 Pupils' comments
Families were very friendly and welcoming/ observed lessons gave a good insight into school life/ the party was a good end to the visit as we were able to talk to the other students from the other countries – OVERALL, A VERY ENJOYABLE AND PLEASENT TRIP (there was no communication between groups in the different activities/ final party should have been longer/ the outdoor activities could have been more interactive and engaging/ better communication needed in clarifying timetable and activities on the different days)
Good language practice/ fun/ party at end allowed new friends to be made/ great to mix with other cultures (more astronomy related activities needed/ more information needed on what to pack/ more time needed to explore the city and for shopping)
Activities were very interesting and well-planned (gaps between activities were too long/ lunch time of 1 ½ hours was too long)
Lyon is amazing – lots of time for socializing with pupils from different countries/ host families provided very good food/ lots of practice to speak French
Made lots of new friends from the different countries/ loved the French cuisine at host family's house/ got a good feel of Lyon's transport system/ learnt more French language (more time needed to be spent in traditional French areas undertaking traditional French activities/ not many astronomy related activities)
We learned about the culture and history of the area/ the flashmob was great/ host families were very kind and welcoming/ lovely food/ good practising French language (visit should be longer/ should be told more about what to pack before the visit)
Well organised and structured/ interesting visits/ able to interact with students from different cultures/ host family was very nice/ lovely French food/ made many new friends/ improved my French/ the party was fun (needed more free time in Lyon)
La boum, c'etait magnifique, mais je n'aime pas le nourriture dans l'ecole.
We met so many amazing people and made new friends/ visited great things in Lyon (our group was split up in the evening/ not much astronomy)
Really fun visit/ so good to practice language and meet new lovely people
It was great bonding with other nationalities/ Lyon is a nice city/ good to practice language (could not choose groups or activities on last day/ would have been nice to stay in a hotel with the Dutch and Italian students to spend more time with them)
The people were really nice and friendly/ it was amazing (more time with host families/ more interesting activities/ party should have been longer).
Host family was nice/ everything was good/ amazing trip (try and get a direct flight / start time in morning is too early)